News
February 2023 New year
New year, new opportunities. Currently, I'm working on finalizing the drum recordings for the upcoming FastLoaders C64 Rocks triple-album. It's super fun, so many good tunes.. If you're in Poland (Warszawa) or England (London) in May/June, we're planning on doing a couple of gigs there where most of the setlist will be comprised of songs from this album release.
Once I'm done with this, I'm planning to release some video stuff from my new studio/rehearsal space... Stay tuned!
November 2022 Pitch black mentality album release!
The album "World Final Wake" by Pitch Black Mentality is out. Please check it out if you're into thrash metal/melodeath.
August 2022 New albums coming up!
It's gonna be a busy autumn! Pitch Black Mentality to release their second album "World Final Wake" where I'm doing the drums. Currently I'm recording the drums for the upcoming triple album of Fastloaders (titled "C64 Rocks"), and there will be more studio sessions with Pretty Blue soon.
In additon I'm gonna do quite a bit of live shows with Fastloaders (Norway and Germany), Pretty Blue and Powerslaves...
June 2022 Brand new studio!
Spent the last 6 months constructing my brand new sound proofed studio/rehearsal room. Looking forward to new sessions there!
February 2022 Fastloader's triple album "Amiga Rocks" is now on Spotify
Check it out on Spotify
October 2021 EP Reviews by Metalized
New Review of my EP in Metalized magazine (7/10 !)(click to enlarge)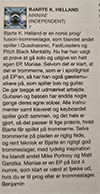 August 2021 Reviews
Got some great reviews of my EP from Metal Digest, Ever Metal and Progressor.net (Facebook)
June 2021 My debut EP is out!
My debut EP is out! Listen in Spotify, Bandcamp, Tidal, Amazon, Apple
October 2020 FastLoaders: Amiga Rocks released
The latest FastLoaders album have just been released - containing 33 tracks of rearranged game music from the Commodore Amiga.
Aquire a physical or digital copy at c64audio.com
February 2020 New drum cover, PBM album and new Fastloaders triple album
Posted a new drum and guitar cover of Virgil Donati - Native Metal youtube. Guitars, bass and keys performed by the exceptional Jarle H. Olsen.
Also, I'm in the final stages with the Pitch Black Mentality drum recordings, and soon starting the recording of our new FastLoaders triple album "Amiga Rocks".
September 2019 New website and autumn 2019
Finally a new website. A bit more mobile friendly. Looking forward to proceeding with my musical activities planned for the autumn 2019. First, continue with the Pitch Black Mentality-recordings (new album), some freelance stuff, and gigs with Fastloaders, Pretty Blue, Retroactive, Stein Hauge and Powerslaves. I am also working on a the mix of a new drum cover for my youtube channel. Stay tuned!
June 2019 Fastloaders - Barbarian (Drum Cam)
Do you like 8 bit music? Then check out my band Fastloaders with an exclusive drum cam video available at youtube: Fastloaders - Barbarian (drum cam).
(This is from the back in time 2018 concert).
May 2019 Drum cover Animals as leaders - Tooth and Claw
Check out my Animals as leaders drum cover at youtube. If you like it, please subscribe: Animals as leaders - Tooth and claw (drum cover 2019 by Bjarte.
Nov 2018 Fastloaders: Back in time live
Fastloaders full live video available for free at youtube. Please enjoy. Fastloaders - Back in time 2018.