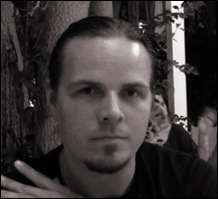 I began playing drums 11-12 years old. Started out in a local brassband in my rural district, Hundvin, and got my first drumkit at the age of 13. One of my major goals has been to become a versatile drummer. I don't consider this to be a stand-alone goal, but I think the idea of learning and mixing different genres might enhance one's playing abilities as well as enrich the way a drummer composes music and creates the rhythmic foundation for the rest of the band. I've listened to a wide range of musical styles; fusion, funk, jazz, afro cuban, classic, blues, neo-classic metal, progressive rock/metal, thrash metal, death metal and black metal. Fusion and progressive based music are however the principal musical styles where I've harvested most of my expertise during the last decade, although I find a great deal of personal gratification in the continuous exploration of my instrument, regardless of musical category or style.
At my sixth or seventh birthday, I got my first cassette with WASP. The title read: "Inside the electric circus". This was the 80s and WASP was a very popular hard rock band from the states. This particular cassette ruled the cassetteplayer for several years, and I guess it marked the beginning of my adventurous ride into the world of music.
When I later got my first drumkit, I was a huge fan of the legendary band Metallica. Additionally, Guns N'Roses, Skid Row, WASP, Iron Maiden and Motley Crue were among my favorites. Lars Ulrich was a big influence to me when I started drumming, and this is somehow reflected through my participation in the tribute band Brutallica.
Aged 15, my "clean-cut" heavy metal trip was coming to an end. I hold Dave Weckl accountable for this sudden change of status quo. He portrayed an entirely new face to my musical paradigm. As time went by, I discovered several great drummers. Many of them totally blew me away with their intense craftsmanship: Dennis Chambers, Virgil Donati, Vinnie Colaiuta and Steve Gadd to mention a few.
Currently I live in Bergen, Norway, and I'm playing with several different bands of different genres. I'm lucky to have had the opportunity to play with quite a few great musicians during the last years. Check out the projects and discography section for more information about these matters.